DJ Beater
piedalās Resno Putnu remix konkursā...

Lejuplādē...
Pirms kāda laika Latviešu Radio radioraidījums Latviešu Klubu Mūzikas Stunda izsludināja remixu konkursu Roberta Gobziņa un 2 Annas dziesmai Resnie Putni. Konkursa balsošana ir sākusies un tas nozīmē, ka visiem interesentiem ir iespēja paklausīties un nobalsot par konkursā iesniegtajiem darbiem. Lai to izdarītu apmeklējiet Latviešu Radio mājas lapas sadaļu Latviešu Klubu Mūzikas Stunda jeb
latviesuradio.lv/LKMS/


Remixu konkursā piedalās pavisam 6 skaņdarbi un tie ir: Arthurs Slishans Remix; David & Goliath Remix; DJ Beater Gajuputnu Remix; DJ UGA Remix; ExteRic Remix; Ph5.5 Remix.


Balsošana noritēs tieši vienu nedēļu t.i. līdz 18. augustam.


P. S. atcerieties ka katru reizi dziesmu secība ir savādāka, tā kā vērtējumi būs tiešām objektīvi par ko liels prieks...

Noklausies
, un ja tev patīk
nobalso
... Lai tiktu pie balsošanas spied uz bildes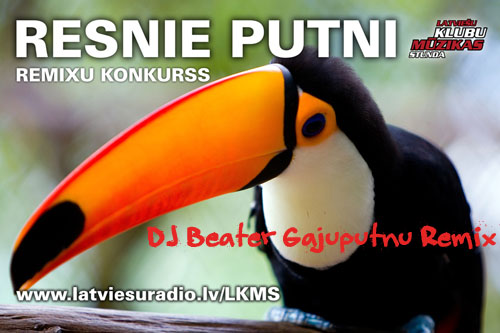 P. P. S. tiek strādāts pie jauniem projektiem un kad būs kas gatavs, tad te to varēsi noklausīties!