Karnevāls, Restore Dance, 2011, Kalētu klubā, ex Disco Video, Guntis un Andris, Andris un Guntis, Kalētu Klubā, Restore Radio Dance Take Your Chance, Kulturās nams, Diskotēka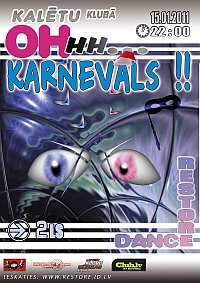 Restore Dance Karnevāls 2011
Sestdien 15. Janvārī
22:00
Kalētu tautas namā

......... Nu tad sveiciens visiem Jaunajā gadā !! ---- Jā.. sagaidījām atseviſki... nosvinējām kopā. Pie tam labi padejojām. Kas var būt labāks par to ???

-- Un tomēr.. nekad nav tā ka pēc mazas atelpas nevar vēl.. un uz visu klapi !!! --Tāpēc jau arī domāti karnevāli, - lai tā vienkārſi saņemtu dūſu un pārtaptu savā Sapņu Tēlā.. kaut uz vienu vakaru.. kaut mazliet.. Jo brīnuma un maģijas nevajag pārāk daudz.. Drusku... kā garſvielas dzīvei.

--- Tātad... izdomājam katrs savu sapņu tēlu, atbilstoſi aicinājumam un vēlmēm, darinām atbilstoſi ietērpu... iestudējam savu stilu.. un uz priekſu... 15. janvārī Kalētu klubā sākot no desmitiem vakarā jūs jau viesmīligi gaidīs Sveta, un tā teikt... virzīs uz placi. Par noskaņu atbilstoſu ſim gadījumam.. jautru un atraktīvu, nedaudz crazy, ar nelielu retro piesitienu, visādā ziņā dinamisku un visām gaumēm atbilstoſu gādās Restore Dance. Tempu un smaidu sejā līdz rītam uzturēs dj komanda.. kā nu bez tā.

Vakara gaitā ļausim maskām sevi kārtīgi parādīt no visām pusēm.. Pat vairāk.. tas noteikti jādara, jo balvas noteikti tiks pieſķirtas. un arī pie ?? atmaskoſanas?? noteikti pasniegtas. Kam un kādas.. to lems visuresoſā Slepenā Žūrija, kas īpaſi nezīmējotes masku izdomu. atraktivitāti un iejuſanos tēlā stingri vērtēs..

--- Tātad tiekamies ... sestdien Kalētos. Mums biežāk jāsanāk kopā.....








Ieeja:
2 Lati.